Durian could be an addictive fruit for people who are comfortable with its smell and taste. It is grown widely in Vietnam. From the basic banana jam cake and demand to provide various flavors for customers, we presented the banana jam cake with durian (crispy banana cake with durian added).
Main ingredients: banana, durian, ginger, sugar, peanut, white sesame, coconut milk, crispy cake
Ripe bananas are pressed and dehydrated and shredded, caramelized with other ingredients in aluminum pan on fire. Workers have to stir continuously so that dried bananas reach the necessary moisture, while sugar is not burnt. With the expertise from long time of working, the workers know when the process is best to stop, then spread on crispy cakes without machine checking. The mistake rate is about 5%. However, the workers in spreading step can detect mistakes from caramelizing step by fingers.
All the steps are carried out manually by hard-working employees with traditional experiences. Therefore, the shape of each piece of banana jam cake with durian is not the same like industry products, each cake shape is unique.
Ripe bananas are sweet naturally, just a little sugar added to preserve the cakes. The banana jam cake with durian are comfortably sweet from natural banana, added with typical taste and attractive fragrance from durian.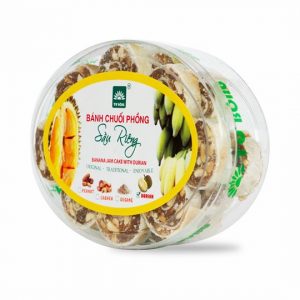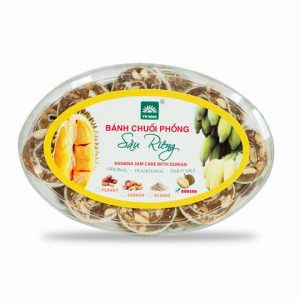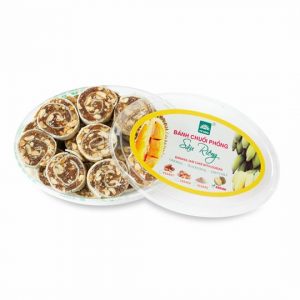 More product with the brand Tu Bong: Banana jam cake with peanut, Banana jam cake with cashew-nut